The Baums and Websters were neighbors and friends. They remained so after members of both families emigrated to America seeking greater opportunity. By 1863, in the new country, two Baum offspring (Abbe Baum and Geneshe Baum) had married two Webster offspring (Goldie Webster and Jacob "Yank" Webster).

Meanwhile, some 250 miles northwest of Augustow, in what was then Szamocin, Poland (in 1795 the area became part of Prussia, reverting back to Poland in 1918), the earliest known Crohn forebear, Meyer Crohn, was born around 1790. His son Morris, also born in Szamocin, in 1820, married Ernestine Wolfe in 1844, had three children (Lena, Theodore and Marcus) and went to America, seeking his fortune, leaving wife and children behind.

But Ernestine didn't wait. With her three children she went first to Manchester, England, meeting with English relatives (called Crown – a lineage that will be explored elsewhere on this site). They helped her come to America in search of Morris. She settled in New York, where she met some of the Baum family from Augustow. She never reconnected with Morris, but two of her children – following the example of the Websters – married two siblings of the Baum family, Lena marrying Israel Baum in 1861 and Theodore marrying Leah Baum in 1882.

This makes for some complicated genealogy and may even seem confusing today. But it is far more understandable within the context of the times when Jews, in the old country and new, tended to stick together both as insulation against persecution and – even more importantly – to continue the nourishing tradition of family and religion.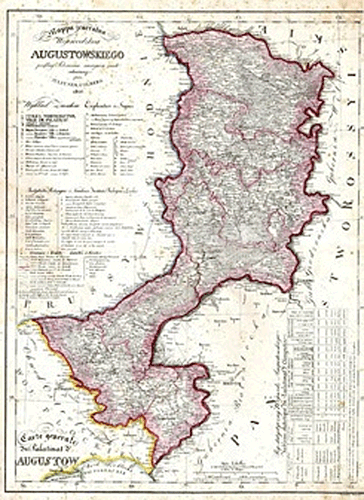 Map of Szamocin